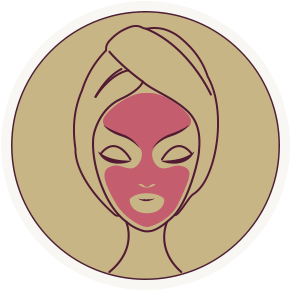 Environ Facials
More than just pampering, at heaven at number 7 we're all about results. We specialise in Environ facials, which use the latest technology to get active ingredients deeper into the skin than could ever be achieved by massage alone. We love transforming skin, so will work with you on a skincare plan of 6-12 treatments combining several of the facial and peel options, plus a fabulous programme to use at home. We'll track and monitor your progress whatever your time or budget allows and look forward to sharing results with you. For your best skin ever.
Should I choose the 30, 60 or 90-minute Facial? We always recommend the 90-minute Facials, as this allows us the time to use all the available tools to get the absolute best results, including a custom mini peel, skin rolling, the maximum probe time to cover the full face and neck, and both the Environ 'hero' face masks including everyone's favourite, the Alginate Mask. The 30-minute Focus Facials are perfect for a quick-fix, or if you just want to top up a problem area between your regular facial. Or go half-way with the 60-minute Facial – which covers the whole face, but fewer areas, and if you don't need the extra help from a peel.
Whichever option you choose, all Environ facials are recommended as a course, to set your skin on the right track. For the quickest results and a youth boost, you can enjoy a facial every 2 weeks until the desired results are achieved, then move on to monthly maintenance. Or why not try adding in a Peel to give your skin a super boost?
Youth Reset Essential Facial
£85 | 90mins
The Classic Anti-Ager for a more youthful complexion, from our Signature Vitamin-loaded Facial range. More than just a facial, this treatment gets to work on fine lines, sun-damage & sagging skin. Using a unique triple peptide-packed infusion and Environ's dual electro-sonic technology, active ingredients are absorbed deeper into the skin than manual massage alone… in fact one 90-minute Environ facial with the DF-II machine is equivalent to 42 hours of massage!
This full 90-minute facial includes all Environ elements; a mini peel to boost radiance, maximum time with the unique Alginate mask, and your full face and neck treated with the electro-sonic probe … our longest facial for your very best results.
Express Facials
These 30-minute Focus Facials are perfect for a quick-fix, or if you just want to top up a problem area between your regular facial.
Environ Skin Peels
Get ready to love these intelligent, skin-friendly peels developed by skin guru Dr Des Fernandes, to tackle common skin concerns. No need to be frightened about these treatments – you won't be red, sore or have any visible skin shedding (forget what you might have seen on the TV!). We believe that a Peel should work with your skin, not against it, but still give great results, and our range of peels makes use of various ingredients and technologies to specifically target common skin concerns.
All Environ Peels work on a layering system, and we can progressively improve your results through a course of 6 to 12 treatments, by applying more layers, and leaving it on the skin to activate for longer. There's no 'one size fits all' approach, and your therapist will work with you to achieve the absolute best results possible from every single treatment.
Safe and effective with no downtime, experience a real, lasting difference and radiant, healthy-looking skin. Why not take your facial routine to the next level and try one of our beautiful skin peels?
CACI Facials
The anti-ageing secret celebrities love!
Found exclusively in our Virginia Water branch, the Signature CACI Non-Surgical Facial Toning Treatments offer advanced non-invasive results, with twenty years of medical research behind it. Micro-currents lift and stimulate muscles in the face, jawline and around the eyes, which improves skin elasticity and reduces the appearance of fine lines and wrinkles. Recommended as a course, you will immediately see a more youthful, fresh appearance, and after a course, expect long lasting results and a toned appearance with glowing, healthy skin.
CACI Thigh & Buttock Lift
£40
Give your thighs and buttocks the star makeover with this specialised treatment from CACI. Electrical muscle stimulation and micro-currents are applied to the area with a specially designed handpiece, to help break down cellulite in the thighs and buttocks, for smoother, lifted thighs and buttocks. We call it our 'Brazilian bottom lift'!