claim your

free

gift

Please select a gift below.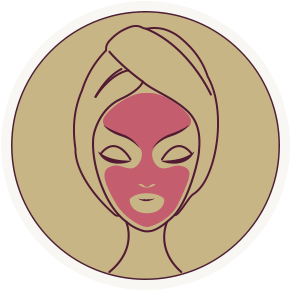 £20 OFF
any 60 minute facial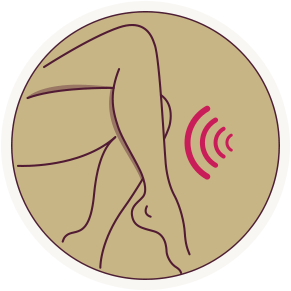 50% OFF
any laser hair removal treatment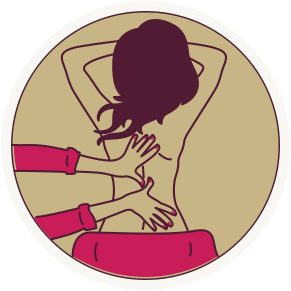 £10 OFF
a 30 minute back massage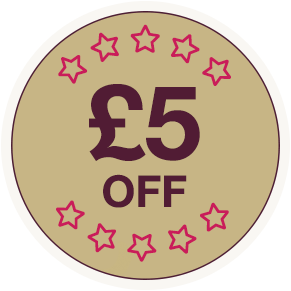 £5 OFF
any other treatment
Please take a moment to complete the form below and we'll send you a free gift on us.
Terms and conditions: 1 free gift per person. Must be booked within 2 weeks of receiving code. Valid for one use, for one person. No cash alternative, not valid for other treatments. Latest offers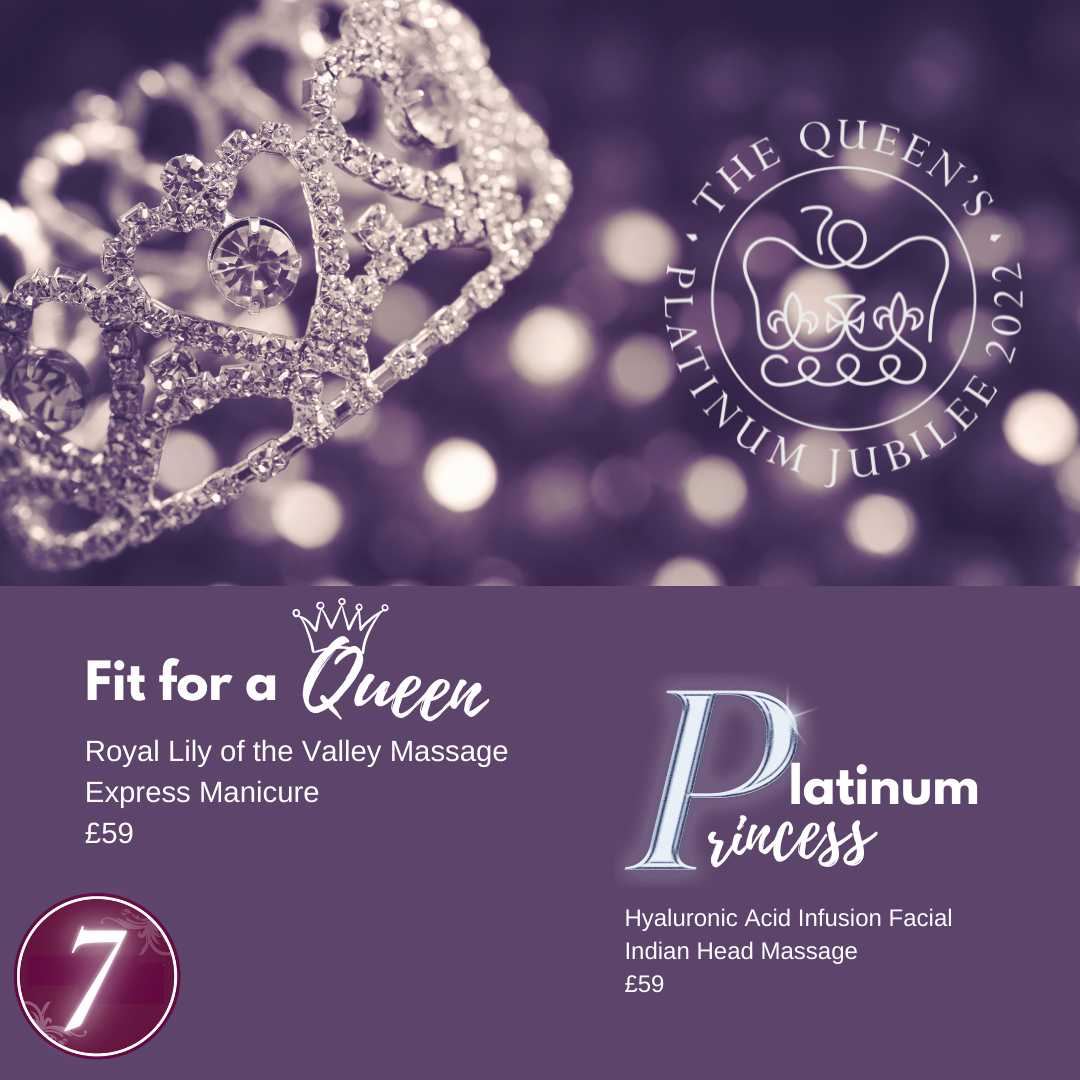 Jubilee Offers - treat yourself like Royalty!
Celebrating Queen Elizabeth's glorious 70-year reign, you can enjoy our 2 Limited Edition Pamper Packages, designed with your relaxation in mind... and a nod to Her Maj.
Fit for a Queen is just that! A winning 1-hour pamper session combining massage and manicure, perfect any time for yourself or a loved one:
* 30-minute Royal Back Massage with Lily of the Valley oil, Her Majesty's favourite flower
* Express Manicure in either Gel or regular Polish finish
During our research, we discovered the beautiful scent of Lily of the Valley and truly understand why it is favoured by our Queen. It's floral, light and refreshing, with some amazing health benefits. In Aromatherapy, Lily of the Valley is often used to treat headaches, depression and anxiety. Breathing it in as you enjoy a relaxing massage will enhance your feeling of wellbeing and happiness, so you leave on cloud nine!
If you love a relaxing facial, Platinum Princess is a 1-hour pamper session perfect for any princess! It's nourishing, moisture-infusing to get your skin glowing, plus our very favourite Indian Head Massage, a right royal way to relax.

* Hyaluronic Acid infused Facial featuring CACI Hydratone technology. Gentle facial rollers and a mild electric current are massaged over a unique, electrically conductive silicon gel mask that has been infused with powerful hydrating properties. Recharges and replenishes the face with a dramatic softening action that helps to immediately plump out and smooth deep lines and wrinkles.

* Indian Head Massage, featuring pressure-point treatment to the scalp, neck and face. Relieves sinus and headache tension, promotes a feeling of deep wellbeing and happiness. We love this massage - and you can enjoy it with or without oil... the oil option is gorgeous for nourishing hair, feels amazing!
Get offer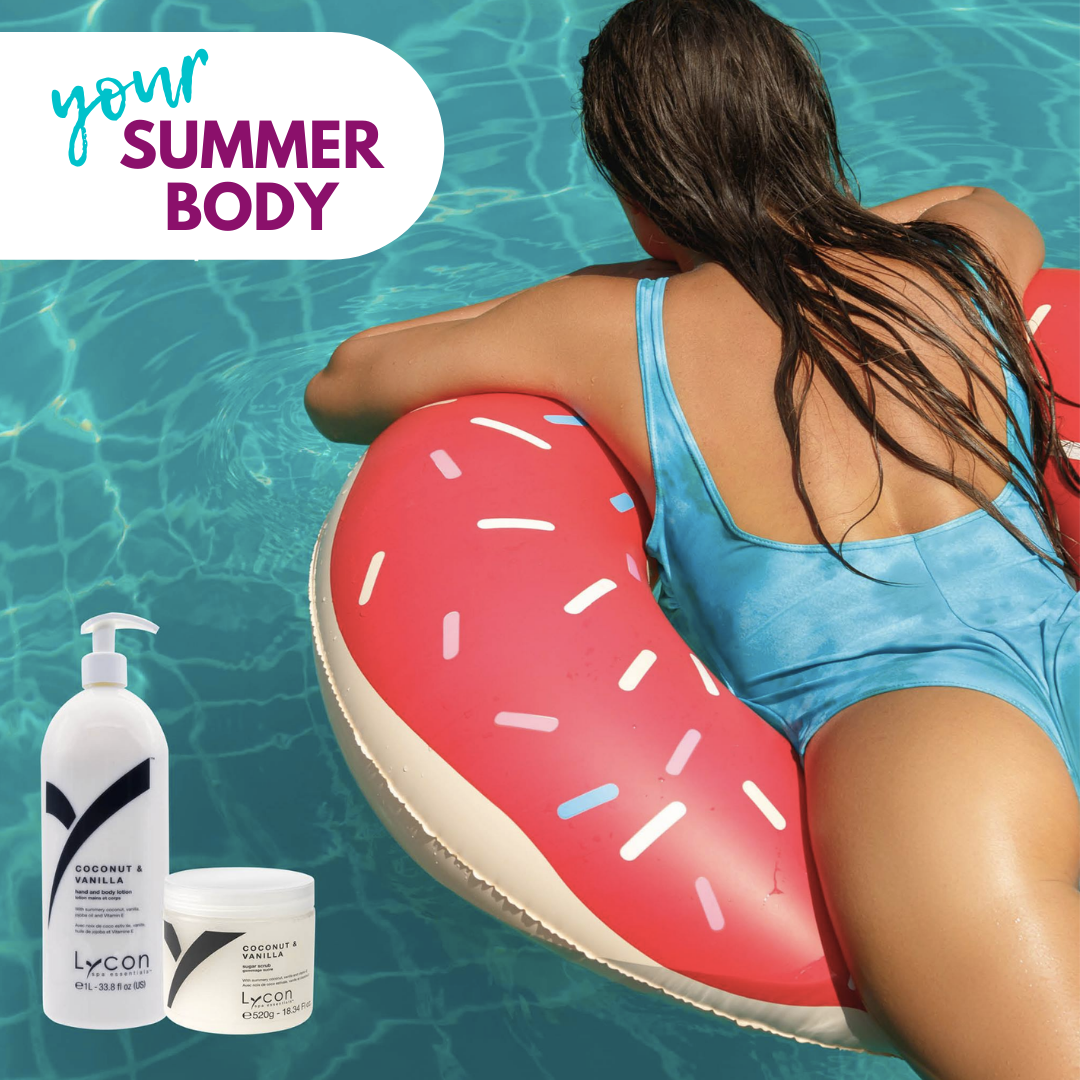 6 for 5 on Body Contouring
All Body Treatments are 6 for 5 this summer
Try Body Sculpt Pro for Fat Loss, Skin Tightening & Cellulite
30 mins is all it takes to firm skin with Environ's Body Profile treatment
Got a stubborn pocket of fat that won't shift? Fat Freezing from 3D Lipo can reduce fat cells by up to 40%
And for the ultimate leg-buttock combo, CACI's Bum Lift treatment gives visible results after even 1 treatment
Not sure what would suit you best? We're also offering FREE consultations all this month. Call us to book in! Or Click 'Get Offer' to explore our Body Treatments available now.
Get offer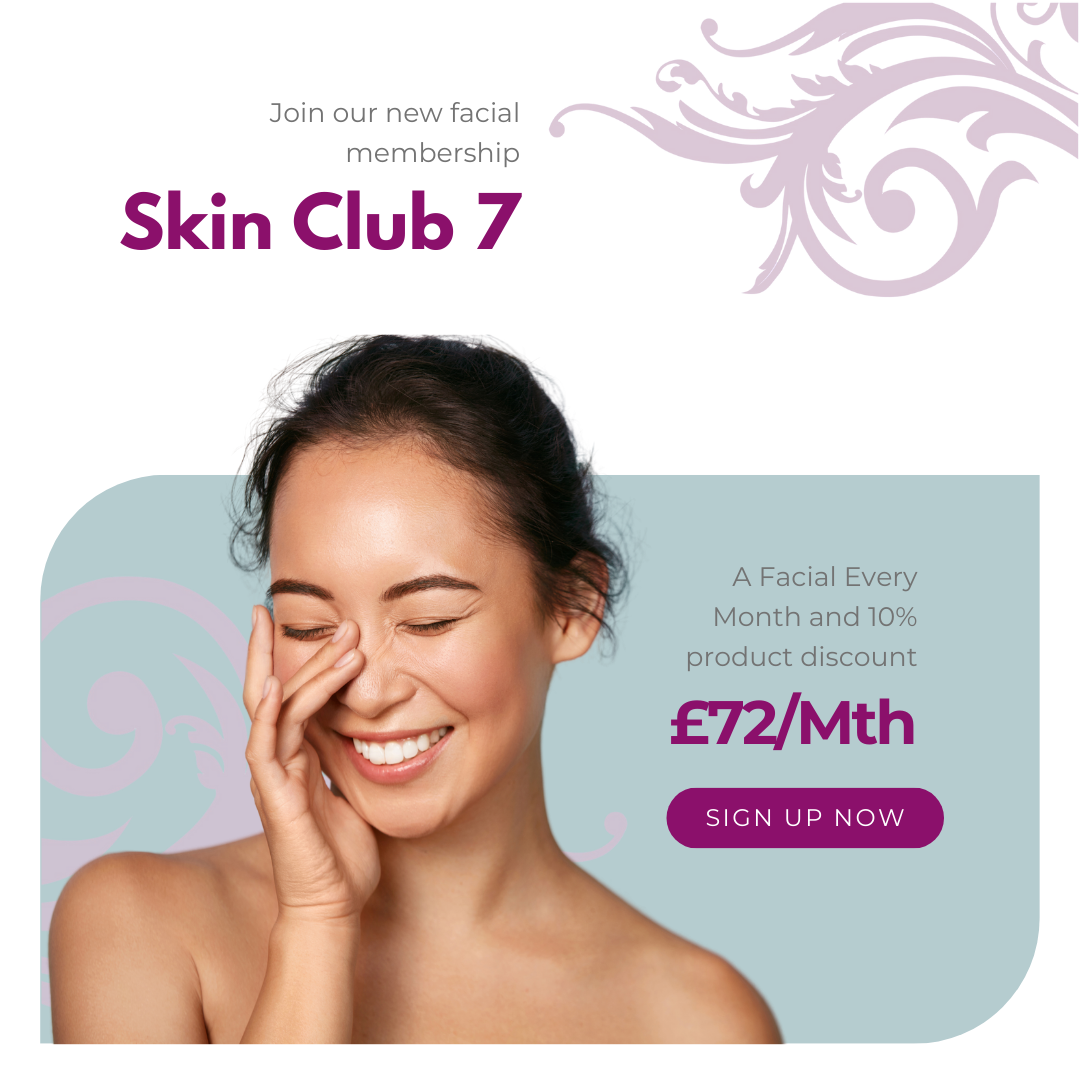 NEW Skin Club 7 Membership
Love your monthly facials? Save money and spread the cost with NEW Skin Club 7 membership. A 90-min Environ Facial every month at less than course discount price... PLUS 10% off Environ, Advanced Nutrition Programme and Jane Iredale products.
Here's an amazing money-saving, skin-loving plan. Instead of paying £90 per month and full price for your Environ skincare... why not pay just £72 per month AND get 10% off as well? Our new Skin Club 7 membership gives you the best EVER price on our fabulous 90-minute facials, plus discount off all your skincare, nutrition and make-up needs.
PLUS you enjoy a joining bonus of an Environ Travel Kit worth over £50 AND 2 free 30-min Focus-On Treatments to enjoy whenever you with during the year.
For Full Terms and Conditions, view and print this link:
Skin Club 7 Terms and Conditions.docx
Get offer