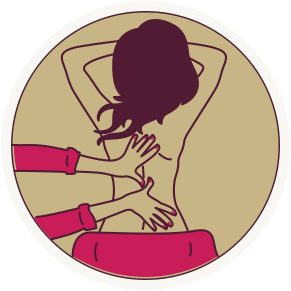 Massage and Relaxation
Feeling the need for a spot of self-care? Indulge yourself with our relaxation menu and get ready for some heavenly pampering.
Classic Swedish Massage
From £32
55 min Full Body = £58
75 min Extra Long Full Body = £72
Classic Back, Neck and Shoulder 25 min = £32
Extra-Long Back, Neck and Shoulder 40 min = £47

Ideal to relax and promote a feeling of general wellbeing, Swedish Massage is a classic technique suitable for targeting the most common and broad-reaching concerns for most people, such as stiffness in the neck from desk working, anxiety and tension from the stresses of everyday life or general aches and pains. Using long, gliding strokes and a light to firm pressure according to your preference, our goal is to relax your whole being, by increasing the circulation of blood and oxygen while reducing muscle toxins and tension from the body.
Deep Tissue Massage
From £37
Full Body Deep Tissue 55 min = £66
Deep Tissue Back massage 25 min = £37
Extra-Long Deep Tissue Back 40 min = £52
For when you need a massage to go deeper, our Deep Tissue Massage is more concentrated on chronic tension or pain. As well as using fingertips and hands, with this technique you can expect us to use our elbows, forearms and knuckles to reach those deeper layers of muscle and tissue. It's a firm pressure, ideal if you have nagging pain, a specific area that's bothering you, or if you do lots of exercise that often tires your muscles. The technique promotes the release of lactic acid from muscles, which could leave you feeling a bit sore for a day or two afterwards – so it's really important to drink plenty of water to flush it all through.
Because of the intensity, we don't recommend this massage during pregnancy, if you have had recent surgery or certain medical conditions. Give us a call if you need some advice, we're happy to recommend alternatives.
Aromatherapy Massage
From £46
Full body Aroma 60mins = £62
Aroma Facial 45 min = £46
Aroma top to toe (facial plus body massage) 75 min = £77
A treat for body and mind, Aromatherapy Massage combines therapeutic massage strokes with scented essential plant oils to aid relaxation and promote a feeling of wellbeing. A blend of wonderfully scented oils are massaged into your skin using long, gliding strokes to increase lymphatic drainage and circulation. We aim to lift your spirits and your mood whilst reducing anxiety and tension with this combination of body and mind treatment. The perfect relaxation massage for when you need to drift away!
Lava Shell Back Massage
From £37
30 min = £37
45 min = £50
An indulgent massage experience using warm, smooth shells to promote deep relaxation in your muscles. Featured in many of the world's top spas, Lava Shells is one of our favourites. During this massage, the shells are worked over the back, neck and shoulders area to ease away all tension, knots and stress, using slow deep movements that restore balance to mind and body. Adds an extra dose of indulgence and relaxation to your standard back massage. (not available in Virginia Water)
Hot Stone Therapy Massage
From £37
Hot Stones Back massage (V water only) 30mins = £37
Full Body Hot Stones Therapy (V water only) 60 min = £66
If you're looking for the ultimate stress-busting treatment to relax and unwind, we recommend a Hot Stone massage. It really is the perfect combination of soothing massage, essential oils and gentle heat from basalt stones that are warmed just for you. The heat helps your muscles to relax even further than with manual massage alone, helping create a sense of wellbeing and deep relaxation. Exclusively available in our Virginia Water branch.
Pregnancy Massage
£56 | 60 mins
Our go-to treatment recommended for expectant mums! Alongside the wonderful experience of pregnancy often comes back pain and aching muscles, and often disturbed sleep patterns that can leave you feeling stressed and strung out. Let us help you relieve some of that tension with a specialised pregnancy massage. We'll provide extra pillows and specially designed bump-friendly massage oil to get you relaxed and comfortable, so you can enjoy this restorative experience.
Worth knowing ; massage is not suitable during your first trimester of pregnancy, or after 36 weeks as it can be too stimulating. We do require midwife consent so remember to ask at your regular appointment, especially if you've had any health niggles. Not all our therapists are trained in pregnancy massage so it's advisable to book ahead to avoid disappointment.
Classic Indian Head Massage
From £25
Indian Head Massage = £25
Indian Head Massage plus Back, Neck and Shoulder = £45
An ancient grooming ritual for relaxation; both healing and stimulating in equal measure. If you're a sufferer of migraines, insomnia or blocked sinuses, an Indian Head Massage can clear tension from the head and neck that can lead to headaches. Also recommended for frequent flyers or swimmers.
Hopi Ear Candles
From £29
Hopi Ear Candles 25mins = £29
Hopi Ear Candles with Pressure Point Facial Massage 45 mins = £49
Another of our favourite traditional remedies, Hopi Ear Candles is a pleasant and relaxing experience to help clear the airways and sinuses. Candles are placed gently in the ear, and when lit, create a revitalising heat in the ears and head which soothes and relieves pressure. A full treatment to both ears creates a feeling of lightness and many people report clearer hearing and relief from headaches and blocked sinuses.
Body Polish
£40
A deliciously scented scrub and polish to remove dull, dry skin from the body, followed by a rich body butter application. Especially beneficial for the back, elbows and knees. Stimulates circulation and cell renewal for a health glow! (not available in Englefield Green)