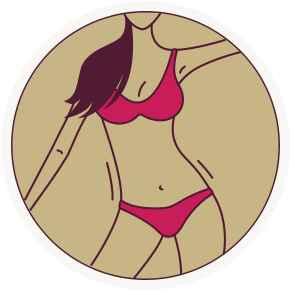 3D-Lipo
Get the Body Beautiful with our smoothing, slimming, tightening treats! 3D-Lipo offers a multi-dimensional approach to body contouring and skin tightening, using a trio of fat-fighting technologies and Cryolipolysis Fat Freezing.
You can expect small improvements with every session, but a course of 8-12 treatments is required for best results. We take measurements and photos before, after and during your course so we can monitor your progress and ensure we are getting you the very best results. 3D-Lipo is available exclusively at our Englefield Green salon. Course discounts available with FREE Fat Freeze, ask for details.
Worth knowing that 3D-lipo treatments work best when you are already following a healthy diet and lifestyle plan, and you do need to commit to drinking 2 to 3 litres of water daily during the course, to ensure effective elimination of the excess fat produced by the treatment – so you stay slimmer!
3D-Lipo Taster Treatment
£75 | 80mins
Find out what 3D-Lipo could do for you, with our 'instant inch-loss' Taster session. It's a full consultation and a 45 minute treatment, all designed to assess which combination of treatment could be right for you. Includes up to 3 of the following elements of 3D-Lipo:
Ultrasonic Cavitation, for deep fat reduction
Tri-Polar Radio Frequency, for skin tightening and subcutaneous fat melting
3D-dermology, vacuum skin rolling to break down cellulite and enhance lymphatic drainage
We'll take before and after photographs and measurements and recommend a treatment plan just for you.
3D-Lipo Body Contouring
From £75
Small Area Price = £80
Large area price = £130
Perfect Legs = £140
Cryolipolysis Fat Freezing
From £49
Single = £99
Double areas such as inner thighs = £149
Chin freeze = £49
Perfect for targeting that last stubborn area of fatty tissue, fat freezing chills the area inside the freeze 'cup' down to minus 5 degrees, which is cold enough for adipose tissue to begin to crystallise and die. This waste matter is then removed from the body by your regular lymphatic system, leaving you with a smoother, slimmer contour. Safe, non-invasive and effective, up to 40% of the cells inside the cup are treated, so it's perfect for small areas where you need a bit of extra help, above what gym and exercise can do. 3D-Lipo is available exclusively at our Englefield Green salon. Course discounts available with FREE Fat Freeze, ask for details.
3D-Lipo Chin & Neck Lift Course
£220
Achieve a tighter, firmer jaw and neckline, and reduce the double chin by 20 to 40%. Targeted 6 and 4 pixel Radio Frequency tightens, tones and smoothes the skin to improve the appearance of heavy creases and wrinkles on the neck. Lifts sagging skin around the jawline and improves 'crepey' skin on the neck. A course of 7 treatments, which includes a Chin Freeze treatment.
3D-Lipo Skin Tightening
From £35
The perfect solution to tighten loose, sagging skin on tummies, arms and thighs, our tri-polar radio frequency technology is highly effective at restoring elasticity and lift. Commonly after weight loss or childbirth, sagging skin can become a problem on many areas of the body, that even diet and exercise cannot treat. Our Radio Frequency treatment feels pleasantly warm and comfortable, giving an immediate lift and progressive results with a course of 6-12 sessions.
3D-Lipo Solo Cavitation Fat Reduction
£40
Ultrasonic Cavitation targets fat cells by breaking through the cell wall, allowing the fat to liquify and disperse. It's great for a targeted treatment zone or for maintenance treatment once you've completed a full course of 3D lipo. May be supplemented by skin tightening or fat freezing as desired, but a course, taken once per week, is essential to see results.
Radio Frequency Body Skin Tightening
£55