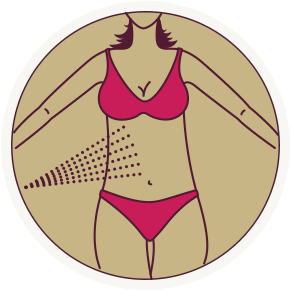 Spray Tans
Sunless Tanning
£30
A revolutionary spray-on tan with amazing, instant results that will leave you with a natural, even, golden glow. We use Vita Liberata, the world's first organic tan, with added moisturisers and skin loving ingredients that mean your tan lasts and lasts, with a natural, patch-free fade. Choose your preferred shade from light, medium or dark, and enjoy up to 7 days of beautifully healthy colour!
Staines branch only.
Ear Piercing
Ear Piercing
£30
Let us look after you with Professional, private, discreet ear piercing. You'll enjoy a private room with plenty of time and space to get those earrings positioned exactly as you wish, with our experienced professional piercer.
We use the Sterex gun system, and have a range of sterling silver, gold plated and hypoallergenic titanium studs for you to choose from, which are included in the price, as well as a bottle of aftercare solution to take away.
The minimum age for ear piercing is 10 yrs, and we will require you to be accompanied by a parent or guardian for the duration of the appointment.
Packages
Looking for a special gift or perhaps time with a loved one? Let us recharge your batteries with our range of great value packages:
The Cherub
£57
Our best-selling facial plus massage package, The Cherub makes for a very special gift for someone special or some self indulgence!
Combining a 30-minute cleansing facial and a Back, Neck and Shoulder Swedish Massage, you'll feel refreshed and renewed after this hour of cherubic pampering!
The Goddess
£100
A true treat worthy of any Goddess, this is 2 hours of our very best pampering, combining the Youth Renew Facial, a 30-minute Swedish massage for your Back, Neck and Shoulders, all topped off with a gorgeous Gel manicure. You'll leave feeling glamorous and restored, with chip-free shiny nails for up to 2 weeks. Unleash your inner Goddess!
The Celestial
£159
Reach for the stars with this top to toe pampering experience – a full 3 hours of delicious treats just for you. Combining all our most popular relaxing, glamourising treatments, this is our ultimate package for a half-day experience with us. You'll enjoy a Radiance Reveal Facial, Manicure, Pedicure, deeply relaxing Indian Head Massage and a brow shape as the finishing touch.
Twin Angels
£90
The perfect treat for couples, best friends or mums and daughters! Relax in our double treatment room in Staines, where you'll both enjoy a full body massage side-by-side, in our dual treatment room.