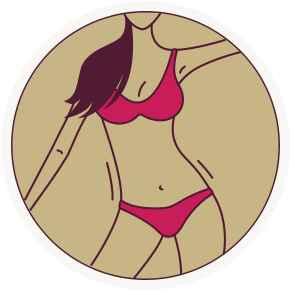 3D-Lipo
Get the Body Beautiful with our smoothing, slimming, tightening treats! 3D-Lipo offers a multi-dimensional approach to body contouring and skin tightening, using a trio of fat-fighting technologies and Cryolipolysis Fat Freezing.
You can expect small improvements with every session, but a course of 8-12 treatments is required for best results. We take measurements and photos before, after and during your course so we can monitor your progress and ensure we are getting you the very best results. 3D-Lipo is available exclusively at our Englefield Green salon. Course discounts available with FREE Fat Freeze, ask for details.
Worth knowing that 3D-lipo treatments work best when you are already following a healthy diet and lifestyle plan, and you do need to commit to drinking 2 to 3 litres of water daily during the course, to ensure effective elimination of the excess fat produced by the treatment – so you stay slimmer!
3D-Lipo Taster Treatment
£75 | 80mins
Find out what 3D-Lipo could do for you, with our 'instant inch-loss' Taster session. It's a full consultation and a 45-minute treatment, all designed to assess which combination of treatment could be right for you. Includes up to 3 of the following elements of 3D-Lipo:
Ultrasonic Cavitation, for deep fat reduction
Tri-Polar Radio Frequency, for skin tightening and subcutaneous fat melting
3D-dermology, vacuum skin rolling to break down cellulite and enhance lymphatic drainage
We'll take before and after photographs and measurements and recommend a treatment plan just for you.
3D-Lipo Body Contouring
From £75
Small Area Price = £80
Large area price = £130
Perfect Legs = £140
Cryolipolysis Fat Freezing
From £49
Single = £99
Double areas such as inner thighs = £149
Chin freeze = £49
Perfect for targeting that last stubborn area of fatty tissue, fat freezing chills the area inside the freeze 'cup' down to minus 5 degrees, which is cold enough for adipose tissue to begin to crystallise and die. This waste matter is then removed from the body by your regular lymphatic system, leaving you with a smoother, slimmer contour. Safe, non-invasive and effective, up to 40% of the cells inside the cup are treated, so it's perfect for small areas where you need a bit of extra help, above what gym and exercise can do. 3D-Lipo is available exclusively at our Englefield Green salon. Course discounts available with FREE Fat Freeze, ask for details.
3D-Lipo Chin & Neck Lift Course
£220
Achieve a tighter, firmer jaw and neckline, and reduce the double chin by 20 to 40%. Targeted 6 and 4 pixel Radio Frequency tightens, tones and smoothes the skin to improve the appearance of heavy creases and wrinkles on the neck. Lifts sagging skin around the jawline and improves 'crepey' skin on the neck. A course of 7 treatments, which includes a Chin Freeze treatment.
3D-Lipo Skin Tightening
From £35
The perfect solution to tighten loose, sagging skin on tummies, arms and thighs, our tri-polar radio frequency technology is highly effective at restoring elasticity and lift. Commonly after weight loss or childbirth, sagging skin can become a problem on many areas of the body, that even diet and exercise cannot treat. Our Radio Frequency treatment feels pleasantly warm and comfortable, giving an immediate lift and progressive results with a course of 6-12 sessions.
3D-Lipo Solo Cavitation Fat Reduction
£40
Ultrasonic Cavitation targets fat cells by breaking through the cell wall, allowing the fat to liquify and disperse. It's great for a targeted treatment zone or for maintenance treatment once you've completed a full course of 3D lipo. May be supplemented by skin tightening or fat freezing as desired, but a course, taken once per week, is essential to see results.
Radio Frequency Body Skin Tightening
£55
Body
CACI Thigh & Buttock Lift
£40
Give your thighs and buttocks the star makeover with this specialised treatment from CACI. Electrical muscle stimulation and micro-currents are applied to the area with a specially designed handpiece, to help break down cellulite in the thighs and buttocks, for smoother, lifted thighs and buttocks. We call it our 'Brazilian bottom lift'!
Acne Back Treatment - "Back Facial"
£47
Clear congestion and purify blocked pores on the back and shoulders with our new 'facial for the back'. This 45 minute treatment uses exfoliation and a gentle peel to cleanse problematic skin. Improves texture and radiance of the skin, helps reduce breakouts and leaves the back looking fresher and clearer. Also a lovely relaxing treatment for anyone who likes a good back scrub!
Spray Tans
Sunless Tanning
£30
A revolutionary spray-on tan with amazing, instant results that will leave you with a natural, even, golden glow. We use Vita Liberata, the world's first organic tan, with added moisturisers and skin loving ingredients that mean your tan lasts and lasts, with a natural, patch-free fade. Choose your preferred shade from light, medium or dark, and enjoy up to 7 days of beautifully healthy colour!
Staines branch only.
Ear Piercing
Ear Piercing
£30
Let us look after you with Professional, private, discreet ear piercing. You'll enjoy a private room with plenty of time and space to get those earrings positioned exactly as you wish, with our experienced professional piercer.
We use the Sterex gun system, and have a range of sterling silver, gold plated and hypoallergenic titanium studs for you to choose from, which are included in the price, as well as a bottle of aftercare solution to take away.
The minimum age for ear piercing is 10 yrs, and we will require you to be accompanied by a parent or guardian for the duration of the appointment.
Packages
Looking for a special gift or perhaps time with a loved one? Let us recharge your batteries with our range of great value packages:
The Cherub
£57
Our best-selling facial plus massage package, The Cherub makes for a very special gift for someone special or some self indulgence!
Combining a 30-minute cleansing facial and a Back, Neck and Shoulder Swedish Massage, you'll feel refreshed and renewed after this hour of cherubic pampering!
The Goddess
£100
A true treat worthy of any Goddess, this is 2 hours of our very best pampering, combining the Youth Renew Facial, a 30-minute Swedish massage for your Back, Neck and Shoulders, all topped off with a gorgeous Gel manicure. You'll leave feeling glamorous and restored, with chip-free shiny nails for up to 2 weeks. Unleash your inner Goddess!
The Celestial
£159
Reach for the stars with this top to toe pampering experience – a full 3 hours of delicious treats just for you. Combining all our most popular relaxing, glamourising treatments, this is our ultimate package for a half-day experience with us. You'll enjoy a Radiance Reveal Facial, Manicure, Pedicure, deeply relaxing Indian Head Massage and a brow shape as the finishing touch.
Twin Angels
£90
The perfect treat for couples, best friends or mums and daughters! Relax in our double treatment room in Staines, where you'll both enjoy a full body massage side-by-side, in our dual treatment room.